Minimal Access Lumbar Spinal Fusion
This is an area of my special interest in spinal surgery. I have a large series of patients treated successfully for low back pain with this technique over the last 16 years of experience. It is used for patients with low back pain due to disc degeneration, lumbar osteoarthritis or lumbar spondylosis including facet joint arthritis.
If you have any questions or want to find out more please call our secretary, Bev on 07539 330360 or email at secretary@spineart.org.
You can also make an appointment on line or join the practice by clicking on the icon in the top right of the screen.
Book a consultation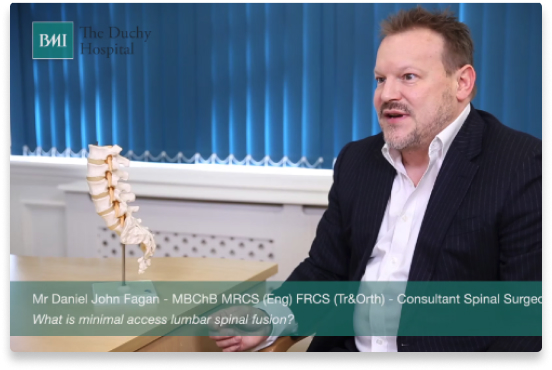 What is the process of this type of surgery?
It is possible to perform a lumbar spinal fusion through several small horizontal portals, 1-2 cm in length, thus avoiding a long incision and dissection of the muscle from the bone of the spine.
Highly engineered titanium implants are placed in the vertebrae of the spine across the painful spinal segment. This stops them from moving and improves the back pain. Specialised bio-engineered bone graft is placed through the portals which encourages your own bone cells to make bone to permanently fix the painful segment.
This is all done under image or x-ray guidance to ensure optimum placement.
This gives better results early on, with proven:
• Shorter length of stay in hospital following low back surgery.
• Quicker recovery times after operation.
• Faster return to work during recovery from lumbar surgery.
• Lower blood loss during the operation and faster recovery from fusion surgery.
• Lower infection rates.
Minimally invasive surgery for low back pain Mr Fagan's patients are normally discharged the following day after their fusion surgery.
Recovery and rehabilitation is much quicker than open lumbar fusion surgery, with some of his self employed patients returning to work within 4 weeks. The usual recovery time following lumbar spinal fusion, TLIF or interbody fusion can be 3 months.
If you are self funding your surgery and have been offered open surgery with long recovery times, Dan Fagan is happy to offer a second opinion as to whether minimally invasive surgery is suitable for you. This surgery is performed with state of the art instruments from Depuy Synthes.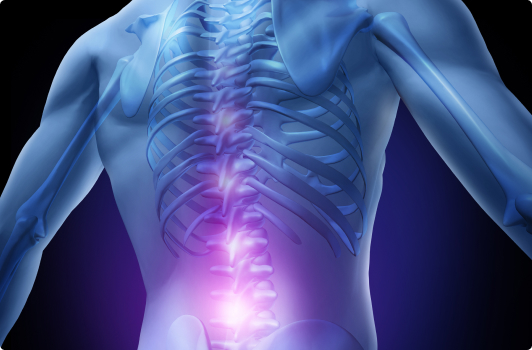 What is the cost of the procedure?
SpineArt fees due at the point of booking
Minimal Access Lumbar Fusion
Spinal fusion is a surgical procedure to join 2 or more bones of your spine together permanently.
View full price list
*Prices correct as of July 2022. Please note these are fees due to SpineArt, hospital fees will be charged separately.
Want to talk to someone or book an appointment?
If your still unsure and have any questions, contact our receptionist Bev on 07539 330360 to arrange a consultation with Dan Fagan or email us at secretary@spineart.org.
Get in touch
Book a consultation