Percutaneous Discectomy
This is a really great operation which has revolutionised treatment for sciatica due to a disc prolapse, disc protrusion or slipped disc. It relieves pressure on the trapped nerve in the back by removing disc material and lowering pressure in the disc. Mr Fagan began doing these in 2004 but the technology was in it's infancy back then. "Percutaneous" is medical jargon for 'through the skin' in other words: without a surgical incision.
It is sometimes called "keyhole" or laser discectomy. The laser refers to the tehnology used to vapourise the disc protrusion, Dan Fagan here at SpineArt uses a plasma field generated by a high voltage electrical generator. This is localised to a range of a few millimetres from the probe tip which is safely placed in the disc under x-ray guidance.
If you have any questions or want to find out more please call our secretary, Bev on 07539 330360 or email at secretary@spineart.org. You can also book appointments online.
Book a consultation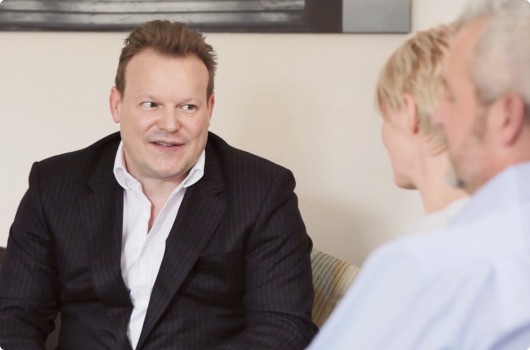 An expert in Percutaneous Discectomy surgery
There are very few surgeons in the UK who have the confidence with this specialised technique.
You are in safe hands with Mr Dan Fagan who has been a consultant spinal surgeon for 16 years.
What is the process of this type of surgery?
It consists of a very clever probe which is small in diameter and fed through a small working needle, or portal into the disc protrusion and disc nucleus itself.
This probe generates a controlled high energy plasma field which vapourises a segment of disc from the inside, with no disruption to the surrounding tissues, leaving the nerve root free and the patient better.
It is the high tech plasma field vapourising the disc which gives better results today than when the technique was first pioneered. It can be done with a laser also (laser discectomy).
It is done under sedation or light general anaesthetic, and only takes about 30-40 minutes. You will go home in a couple of hours the same day with no incision and very little pain!
What is the recovery process?
The sciatica should get better quickly afterwards and this happens in 80% of patients who are very happy with it. They avoid all the risks of open surgery and the painful recovery from an incision.
There are no stitches, just a puncture mark from the surgical access needle which heals very quickly.
You will see the nurses at day 4 and 7 then Mr Fagan at 2 weeks postop. You may return to work at that stage depending upon your job and your recovery.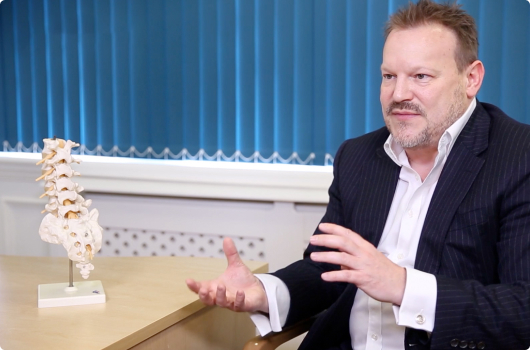 What is the cost of the procedure?
SpineArt fees due at the point of booking
Percutaneous Discectomy
A percutaneous discectomy is a procedure that removes part of a herniated disc that is trapping and irritating a nerve, resulting in prompt pain relief.
View full price list
*Prices correct as of July 2022. Please note these are fees due to SpineArt, hospital fees will be charged separately.
Want to talk to someone or book an appointment?
If your still unsure and have any questions, contact our receptionist Bev on 07539 330360 to arrange a consultation with Dan Fagan or email us at secretary@spineart.org.
Get in touch
Book a consultation