Suffering from Back Pain?
Low back pain or back pain can happen to anyone. It normally gets better by itself, often with physiotherapy and chiropractic treatments but sometimes more specialist help is needed. Successful injection treatment is often very helpful and less frequently low back fusion or lumbar spinal fusion can also be performed.
If you have any questions or want to find out more please call our secretary, Bev on 07539 330360 or email at secretary@spineart.org.
Book a consultation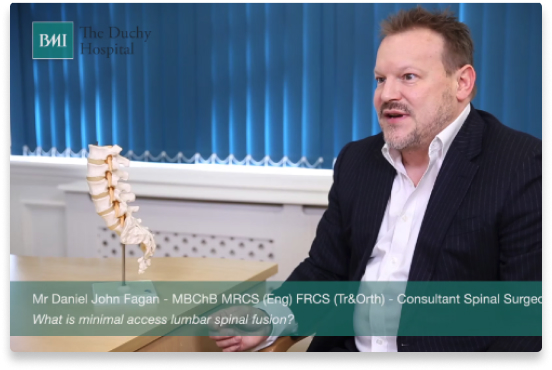 There are many ways to treat low back pain provided by Dan Fagan
He will select the most appropriate operation for your own individual clinical situation and circumstances. Mr Fagan is one of very few spinal surgeons in the Teeside, Hartlepool, Sunderland, Durham & Darlington, North Yorkshire, or Harrogate regions higly experienced in these minimal access or minimally invasive techniques (previously known as "keyhole" surgery). Wherever you live, if you prefer not to travel, a telemdicine appointment with him can easily be arranged.
What is the process of this type of surgery?
If simple and safe injection treatment combined with rehabilitation has only yielded modest benefit, both the patient and Mr Fagan may decide that a minimal access, image guided procedure through a tiny incision is required. In these cases the average length of stay is one day! Pain levels postoperatively are much lower than traditional open surgery through larger incisions and return to work is much quicker. Mr Fagan's anaesthetist uses an enhanced recovery protocol to get you back on your feet more quickly.
He has been invited to talk nationally on this, has presented his own results previously at an International Neurosurgical Conference in 2011 and has been involved in training courses for surgeons wishing to learn these state of the art methods.
What is the recovery process?
For most the experience is an overnight stay and home without any need for nursing input other than some TLC from a loved one! Mr Fagan's anaesthetist uses an enhanced recovery protocol to get you back on your feet more quickly with less postoperative pain.
You will lead a quiet life for two weeks afterwards, and with gentle physiotherapy from 4-6 weeks onward, progressive exercise and return to normal function pain free, will make progress back to an active, healthy life.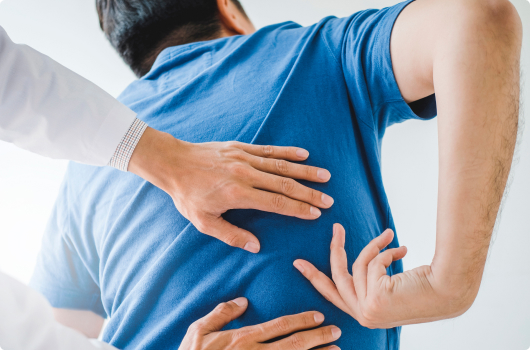 What is the cost of the procedure?
SpineArt fees due at the point of booking
Lumbar Facet Injections
A lumbar facet joint block is an injection of local anaesthetic (numbing medicine) into one or more of the small joints located along the side of each vertebrae on both sides of the spine in the lower part of the back. Steroid can sometimes be added for therapeutic effect which will dig you out of the rut of facet pain and can be combined with effective physiotherapy or rehabilitation.
View full price list
*Prices correct as of July 2022. Please note these are fees due to SpineArt, hospital fees will be charged separately.
Want to talk to someone or book an appointment?
If your still unsure and have any questions, contact our receptionist Bev on 07539 330360 to arrange a consultation with Dan Fagan or email us at secretary@spineart.org.
Get in touch
Book a consultation