Suffering from Slipped Disc or Disc Prolapse?
This causes severe pain which is felt shooting from the buttock into the leg and feels like a trapped nerve in the back. People can also feel numbness or weakness of the leg. Don't wait for it to get better by itself with days lost from your workout programme – there is a special kind of targeted epidural injection to the spine designed to treat your sciatica or leg pain with an excellent chance of a complete recovery and return to sport or work. It can also be used to treat spinal stenosis and back pain symptoms.
If you have any questions or want to find out more please call our secretary, Bev on 07539 330360 or email at secretary@spineart.org.
Book a consultation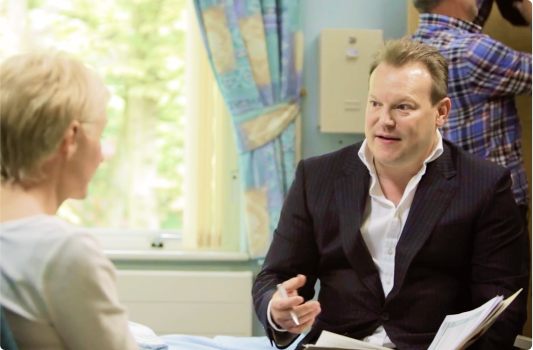 Successful treatment of patients suffering from bulging discs and trapped nerves in the back
Mr Fagan performs all his injections personally under local anaesthetic. In his experience sedation is not necessary if a properly done, quick and confident injection can be made. Most patients are pleasantly surprised how quick and pain-free it is.
If surgery is required Dan Fagan uses the most up to date methods including a percutaneous or "keyhole" discectomy which can be done as a daycase with faster recovery and less pain.
What is the process with this type of treatment?
A very thin needle less than 1mm in diameter is used to approach the nerve root as it exits the spinal canal then a X-ray guidance is used to judge perfect positioning.
The needle does not penetrate the mid-line structures of the spine because the angle of approach is different. It is this that makes traditional epidural injections more uncomfortable. Sometimes women have negative experiences of epidurals in labour and childbirth. Again these can be more uncomfortable because a larger needle and a larger volume of fluid is used. A small volume of steroid solution and long acting local anaesthetic is injected to soothe the nerve roots and disc.
You may notice an immediate improvement in your sciatic pain, which will hopefully last until you come back to see Mr Fagan in six weeks. If the symptoms return in the meantime, you may need further treatment.
This can be a second injection but may also be a percutaneous (keyhole or laser) discectomy which is done in the operating theatre under image guidance. A small portal is used and no incision is made. People are home the same day with an 85% chance of a permanent relief of the trapped nerve symptoms.
Only a small portion of the disc is vapourised, enough to relieve the problem.
What is the recovery process after surgery?
The sciatica should get better quickly afterwards and this happens in 85% of patients who are very happy with it. They avoid all the risks of open surgery and the painful recovery from an incision.
Patients are home the same day and Dan Fagan will see them in clinic two weeks afterwards. Early return to work and sport is expected faster than traditional surgery with low risk of complcations such as infection.
There are no stitches – there is just a pinhole from the operating portal (like a large needle) which was used to access the disc during the operation.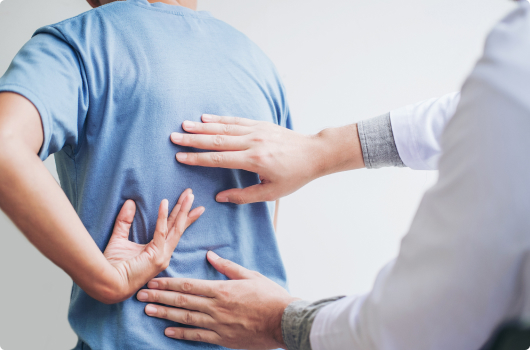 What is the cost of the procedure?
SpineArt fees due at the point of booking
Percutaneous Discectomy
This modern minimal access discectomy uses a plasma field or laser to remove part of the damaged disc and thus relieve the pressure on the trapped nerve tissue and alleviate the pain.
View full price list
*Prices correct as of July 2022. Please note these are fees due to SpineArt, hospital fees will be charged separately.
Want to talk to someone or book an appointment?
If your still unsure and have any questions, contact our receptionist Bev on 07539 330360 to arrange a consultation with Dan Fagan or email us at secretary@spineart.org.
Get in touch
Book a consultation